Autumn 2015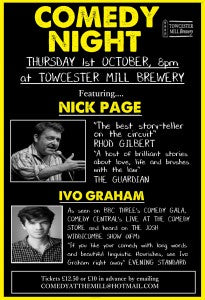 So with the summer holidays fading away (like the sunshine we've had this summer!) it's time to think about Autumn and what's happening down @towcestermill !
Well what could be better than World Cup Rugby, a 24 ale beer festival, a comedy night and a good old members knees up?!
Here's three posters with dates for your diary. If you like what you see then please share on your FB and Twitter pages so we can all have a great Autumn!
We look forward to seeing you soon!