Autumn Beer Festival 2015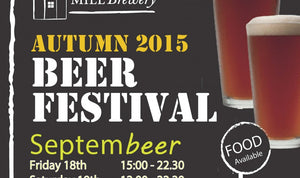 Well folks here's the list of 24 beers that will be on offer from this Friday through to Sunday at this year's Autumn Beer Festival.
We hope the weather will behave but whatever mother nature throws at us i'm sure the cask ale and cider will flow and the rugby will play!
Don't forget the England game on Friday which we'll be showing live in our function room. Your first beer festival voucher purchase will guarantee your seat but we can only accept 100 in the room so get your voucher soon at the tap room bar to avoid disappointment!
Early doors Friday …we're open at 3pm !