Beer of the month - July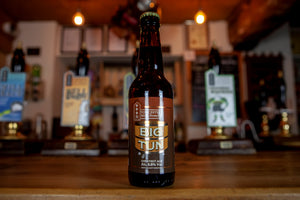 Towcester Mill Brewery's Beer of the Month is a real winner! Big Tun is the Brewery's strongest ale, with an abv of 6.8%. It won an award in the strong ale category at the Northampton County Beer Festival 2018 and was bottled for the first time at the end of last year.
In a smaller bottle than normal, 330ml, Big Tun has plenty of clout. It is the big brother of the Brewery's previously very popular ale called Old Tun. Chestnut in colour, it's packed full of flavour and strength and is perfect if you're looking for a deliciously tasty strong ale!
Now available at our Brewery Shop at Bell Plantation Garden Centre, it is on offer for the whole of July for a specially discounted price of £2.50 a bottle - so why not treat yourself to 4 bottles for £10? A case of 12 bottles is available for £25 - just over £2 a bottle. Check out this award-winning ale before it's all gone!