Behind the scenes of the Brewery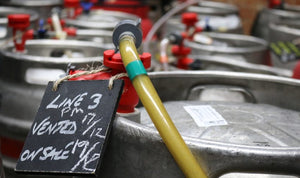 If you've not yet had the chance to go behind the scenes of Towcester's only brewery then make sure you book tickets for a brewery tour this spring!
During the first few months of this year Towcester Mill Brewery has already welcomed over 125 people to the Mill to see what goes on behind the scenes of its five brewer's barrel brew plant.
The weekly tours are taken by one of the directors so you benefit from the depth of their knowledge and experience the genuine passion they have for brewing the perfect pint they are so rightly proud of!
The tours begin with a brief history of the Grade II listed Mill the brewery is housed within, as well as an introduction to brewing and the key ingredients and equipment necessary for the brewing process.
Costing just £10 a person for the tour it's a great evening out – and it's topped off at the end with a pint of your choice or a beer tapas board which holds three thirds of a pint so you can try out any three of the ales available on the night.
Tours are generally mixed groups but if you're a club looking for a night out as part of your annual activity programme, a company wanting a unique team building session or even a group of friends who want to get together and do something a bit 'different', then a private brewery tour can offer the perfect solution!
Tours for May are now currently available to book online at  www.towcestermillbrewery.co.ukand more dates are regularly added as they fill up. Tour vouchers are also available from the Brewery Shop at Bell Plantation Garden Centre.