Bell Ringer reaches the Isle of Wight + more news!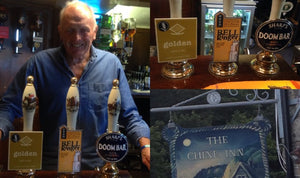 Good morning and we're all on our knees begging for good weather this weekend…please join us will you!
Anyway, despite the weather All Seasons Kitchen will be providing BBQ food from 4-8pm this Saturday if you fancy some grub with your pint!
Also a date for your diary is Tuesday 4th August where Queen's Oak Morris will be dancing at the Mill. Why not come down and support local traditional English dance at its very best as you sip your pint of Bell Ringer!
Finally, our featured image is of Bill Downer who is the landlord of the Chine Inn who now has #BellRinger on the bar over on the Isle of Wight courtesy of the Varrier family who kindly dropped it off so that Mr Varrier can have a taste of Towcester at his holiday local!
All that remains is to say have a great weekend whatever you are up to and we hope to see you for a drink soon @towcestermill