Bottle Shop open on Friday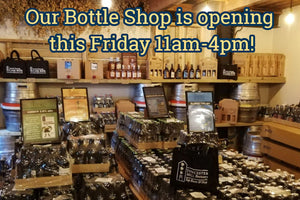 Our Bottle Shop is re-opening!
We're delighted to let you know that we'll be re-opening our Bottle Shop this Friday, 13 November between 11am-4pm.
All Click & Collect orders can be collected between these hours but, if you'd rather have a browse around our Bottle Shop, then you are very welcome to do so. We will of course be managing numbers within our shop at any one time and adhering to the current Covid-19 guidelines so please wear a mask at all times and sanitise your hands on entry. We will be operating a one-way system with payment for any shop purchases made in the Tap Room as you exit.
As well as all our usual bottled beer and draught beer boxes and flagons, we also have a range of Lyme Bay wines, gins, vodka, sparkling wine and cream liqueurs - when they're gone they're gone!
Our online shop can be found here - enjoy browsing our many gift ideas!