Brewing fresh hop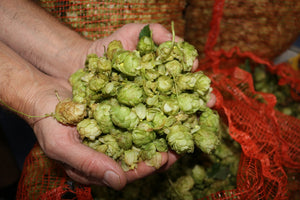 Lots of our beers are brewed regularly throughout the year, over and over again, but there's one brew which can only be done once a year - and this is the time of year to do it!
Yesterday we went down to the farm near Worcester and brought back fresh hops. These are used to make our Fresh Hop ale which we are so excited about as it's been two years since we last brewed it, having had to miss out in 2020!
September is the key time in the brewing calendar as this is when British hops are harvested - and it's the one day of the year when brewers are invited to the hopfields and have the opportunity to bring back the freshest of hops.
This beautiful golden ale will be available to drink in a couple of weeks time and we will keep you posted as to when it's on draught. Watch this space...