Certificate of Excellence 2019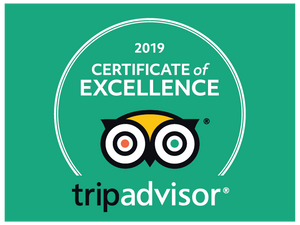 Hot on the heels of our five year anniversary we are delighted to announce that we have been recognised with a 2019 Certificate of Excellence, based on the consistently great reviews we've earned on the world's largest travel site.
Only a small percentage of businesses achieve this accolade so we are chuffed to receive this for the fourth year in a row! 
We now have 157 reviews, 149 of which are rated as excellent and very good. Thank you so much to everyone who has taken time to write us a review - it means a lot!