Click & Collect this weekend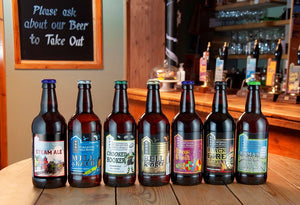 Are you looking to treat yourself or a loved one this Easter? Hoping to have a few beers in the garden over the long weekend, or maybe you're having a few friends round once restrictions allow? If so then why not check out our bottled beers and see which one you like the look of!
We're holding a Click & Collect session this Friday 26 March and Saturday 27 March where you can collect all online orders from outside the Brewery. We have six different cases of beer available - Bell Ringer, Black Fire, Crooked Hooker, Mill Race, Roman Road and our brand new Steam Ale - all at £30 a case. We also have a special offer on cases of Saxon Shield which are now discounted from £30 a case to £24 - that's just £2 a bottle!
And, if you're looking for a gift, you can now buy our three bottle gift packs for £10, our six bottle beer bags for £20 and 12 bottle mixed cases for £30 all online. Gift packs can be filled with any beer of your choice, but the beer bags and the mixed cases are pre-filled - more details can be found on our website.
All purchases must be made online and collected this Friday 26 March or Saturday 27 March between 11am-2pm. We look forward to seeing you then - and keep your fingers crossed for a warm Easter so the beer can be enjoyed in the sunshine!