Crooked Hooker lines up ready for Rugby Six Nations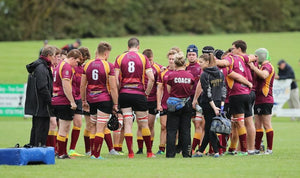 Towcester Mill Brewery's Crooked Hooker comes into its own this time of year as the Rugby Six Nations kicks off on the 3rd February.
First brewed in September 2014, Crooked Hooker, a 3.8% vol amber ale, has become so popular it is now on the bar permanently, and not just for the rugby season!
Crooked Hooker is brewed especially for and named after the Northampton Saints Rugby former players' club 'The Crooked Hooker', and is a traditional amber session ale brewed to leave a satisfying hop finish.
Towcester Mill Brewery is also the proud sponsor for the second year running of Towcestrians Rugby Club's First XV team. "Our partnership fits perfectly with Crooked Hooker and our links with the Saints' ex-players' bar at Franklin's Gardens. It's the perfect combination – watching a Rugby Six Nations game with a pint of Crooked Hooker in your hand, especially as we will have an offer on our four pint pitchers to share with friends during England games!" said director, John Evans.
"Towcestrians Rugby Club is delighted to have Towcester Mill Brewery as one of our sponsors and our members really enjoy the ales provided," added Richard Michael on behalf of the Towcestrians. "The cask ale Crooked Hooker is a great addition to our bar and is enjoyed in victory or defeat! Cheers and thanks to Towcester Mill Brewery."
The first England game is Italy v England on Sunday 4 February at 3pm. All the Rugby Six Nations games will be aired at Towcester Mill Brewery in either the Malt Room or Turbine Room. Crooked Hooker will be on offer from 4 February until 17 March when, during the England games, a four pint pitcher 'to share' will be £10! Terms and conditions apply, please see the poster in our tap room or check out the latest information on our Facebook page.