Dogs welcome!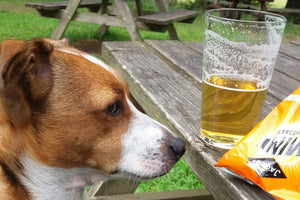 Yes we are dog-friendly here at the Mill! 
We've had a few enquiries recently so we wanted to confirm that dogs on leads are very welcome inside and out - along with their well behaved owners!
We've obviously got a large space outside for dogs to sit with their owners and we have also have a water tap in the garden which you can use to fill up the bowls that are outside.
Dogs are also welcome in the Tap Room on the ground floor and the Turbine Room on the first floor. Our new Steam Room also on the first floor is a dog-free zone though!
So, if you're out walking in the daytime or early evening then you can always stop off for a hot or cold drink, be careful though in case they get an eye for what's on offer, as seen here with our favourite four-legged friend, Jack!