Easter Mini Beer & Cider Festival 2015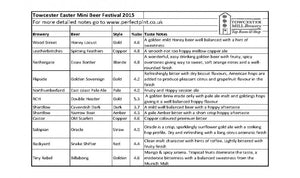 Apparently the weather next weekend is going to be a scorcher (well kinda!) so what better way to enjoy it than to come down to the mill for a weekend of beer, Cider, BBQ and music!
Here is the beer list for next weekend and times will be Fri 5pm – 11pm, Sat 12noon – 11pm and Sun 12noon – 7pm.
We hope to have more details about music and the cider list next week sometime but I can confirm that the BBQ will include Black Fire Sausages in a Black Fire roll!
Hope to see you all next week (if not sooner!) so it's a big cheers 'n' beers