Exciting times for the Dolphin!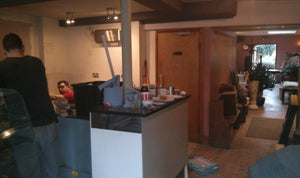 Exciting times lie ahead for Cate and the Dolphin Cafe… or should I say Woodstock's Bakery at the Dolphin Cafe!
As you can see in these pictures there is a refit taking place and Cate and her staff will be opening their doors later on this week to offer an exciting new menu as well as local artisan bread and @towcestermill beer!
Look out for Black Fire bread coming your way soon!
All the best to Cate and it's cheers 'n' beers from us!