Fashion and Fizz at Towcester Mill!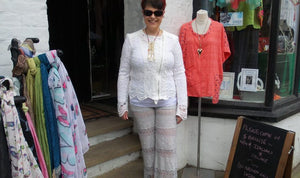 Treat your mum this Mother's Day weekend and enjoy a fabulous fashion show on Saturday 10 March, complete with a glass of Prosecco!
If you are a mum, know another mum or want to treat your own mum and have a great night out, then this is an ideal evening for you.
Jackie Allen, owner of Rock Those Frocks on Watling Street, will be showing her latest collection of affordable clothes and accessories from Italy and France. She will also be launching the new Lily and Me collection – a new boutique UK brand – and will be offering 10% off all items from this collection as part of her launch.
"It really will be a lovely evening," said Jackie Allen, owner of Rock Those Frocks. "As we head into spring, it's the perfect time to come out with your mum or get a few mum friends together and treat yourself to a glass of Prosecco and see what the latest styles are. We've even got some mum and daughter models for the evening so it should be a fun and easy evening out for all us fashion conscious ladies!"
The event will also be supporting a very worthwhile cause, as 10% of all Jackie's sales on the night will be donated to Willen Hospice. There will also be a charity raffle to win two bottles of Prosecco!
Towcester Mill's favourite Mexican street food vendor, Baja Cantina, will also be at the Mill that night, serving up their delicious nachos and tacos if you want to grab a bite to eat before the event begins.
Tickets are available now at £15 for two people, including a glass of Prosecco each, from www.towcestermillbrewery.co.uk. Doors to the Malt Room will open at 7.45pm and the evening will begin at 8pm.