Father's Day treats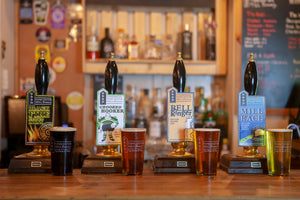 If you want to treat your special dad to a little something to celebrate Father's Day this year then look no further than Towcester Mill Brewery!
Whether you're looking for bottles of beer, Brewery memberships, gift packs, single malt or Brewery tours, then the Brewery may just be the answer.
At the Brewery Shop at the Bell Plantation Garden Centre, 'Make Your Own' beer hampers can be filled with whatever you choose. Branded pint glasses, bottles of beer, polo shirts or bottle openers can make a fab gift. The shop now has ten different bottles of beer to choose from so there's no problem filling a hamper, or even three-bottle gift packs and six-bottle jute bags. If you can't choose between them then you can also pick up a 12-bottle mixed case! Tove Mill, the Brewery's own English single malt, is also available in 20cl and 70cl bottles.
There are gift vouchers which can be redeemed in the shop, or a Brewery Tour e-voucher can be purchased online and redeemed on a Brewery Tour of their choice. Brewery memberships are also available online if you want to give a gift that will last a year and give them extra benefits such as a polo shirt, exclusive members' evenings, tours and discounts in the shop, online and in the Tap Room!
The Tap Room will be open on Father's Day as usual from 12pm-8pm so if the weather's good it's a perfect place to go to and relax in the beer garden and enjoy a great pint! And, if your dad likes a laugh then the Mill has its popular Live Comedy Night just after Father's Day, on Thursday 27 June – why not buy some tickets and treat him to an evening out with a few beers and loads of laughs?
For shop enquiries and orders please phone 01327 437560. The shop is open 6 days a week Tuesday-Sunday so pop in and pick up some inspiration! Cheers!