Folk Festival In An Evening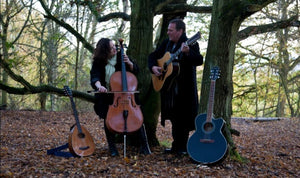 'A Folk Festival in an Evening' will be held at Towcester Mill Brewery on Thursday 15 June featuring sets from the hosts, Towcester folk duo Jenkinson's Folly (pictured above), joined by special guests from past and present musical collaborations.
Full artist list will be announced on the night, but we are delighted to confirm…
Sue Brown and Lorraine Irwing: https://sueandlorraine.com/
With rich, haunting harmonies, inventive arrangements and an engaging stage presence, this duo has captivated folk club and festival audiences around the country.
Bill McKinnon: https://www.youtube.com/watch?v=aJdGCm_OY3E
Bill has 30 years' experience and enjoyment of traditional music, playing 5-string banjo, tenor banjo, mandolin and melodeon, inspiring all with his energy and enthusiasm.
Following the concert, the evening will conclude with a 'come-all-ye' session led by Jenkinson's Folly.
Doors to the upstairs bar will open at 7pm and the concert starts at 8pm. Tickets are available at £12 a ticket, incl booking fee, from www.ticketsource.co.uk/towcester-mill-brewery.