Lindisfarne founder returns to the Mill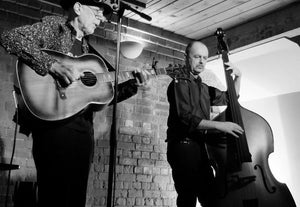 Lindisfarne's founding member, Rod Clements, is taking centre stage at Towcester Mill Brewery's next live music night, to be held on Thursday 12 April at 7.30pm.
Clements, who originally sang at the Brewery two years ago in 2016 to a sell out audience, is a British guitarist, singer-songwriter and multi-instrumentalist best known for writing some of Lindisfarne's most successful UK hits, including 'Meet Me On The Corner' (which was compared favourably to the classic songs of Bob Dylan) and 'Road To Kingdom Come'.
In the mid 70s he was also co-founder of the offshoot line-up 'Jack The Lad'.  Lindisfarne broke up in 1973 and then reformed again in 1977 and Clements continued to be part of the line up until 2003.
At this gig on 12 April, Clements will be joined by Ian Thomson who has been the bass player and backing vocalist of Lindisfarne since 1995.
So, if you fancy a night of legendary live folk-rock music – a little bit bluesy, a slice of folkiness and a splash of rock – then book tickets now!
Doors to the Malt Room bar open at 7pm, and the concert starts at 7.30pm.  Delicious tex mex food will also be available from Baja Cantina from 6pm-9pm.
Tickets are £14 (incl booking fee) available from www.towcestermillbrewery.co.uk.