Live Poetry – Hammer & Tongue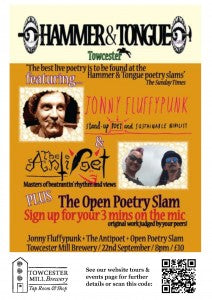 Hammer and Tongue Poetry Slam
Hammer & Tongue venture northward to the amazing Towcester Mill Brewery for an evening of awesome feature artists and an open poetry slam.
For our inaugural show at TMB we thought we'd better show off a bit, so we've lined up sustainable nihilist Jonny Fluffypunk and (almost) local heroes The Anti Poet to bookend our open poetry slam – slammers get three minutes on the mic to impress the randomly selected judges in the audience.
If you want to slam, contact me, Neil Spokes at oxford@hammerandtongue.com. Slam places are strictly limited to 8. Good luck, and see you there!