NEW Local delivery service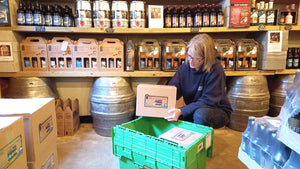 Looking for gifts to be delivered to your home or maybe to a friend or family member who lives in the area? Then look no further as we are now offering our local delivery service!
All our bottled beers - including gift packs, beer bags and cases - as well as our 5L mini-casks and Watermeadow Gin can now be ordered online for local delivery.
Our courier will be covering ALL NN postcodes, plus some MK and CV postcodes, all for just £4, with a minimum order value of just £10, which is just one gift pack!
Deliveries are currently being made weekly, every Thursday. Orders must be placed by Tuesday 10pm for a Thursday delivery. All orders are packed securely in our Bottle Shop and shipped using local courier service, BRG. 
It's the perfect solution this Christmas time!