May is the month of Mild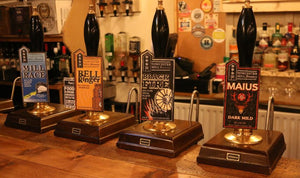 As May arrives and spring gradually turns into summer, Towcester Mill Brewery is well and truly into beer garden season. With new beers to try, now is the time to come and see for yourself what the tap room has to offer!
The month of May welcomes the return of the Brewery's seasonal favourite, Maius, the Old English name for May. This is a mild ale, brewed specifically because CAMRA (Campaign for Real Ale) promotes 'Mild throughout May'. Mild ales are black to dark brown to pale amber in colour and come in a variety of styles from warming roasty ales to light, refreshing, lunchtime thirst quenchers. Alcohol levels are typically low which is why Maius is the perfect pint for those lighter summer evenings.
"Our Maius is a 3.6% ABV dark mild," explained director, John Evans. "It's a firm favourite, not just for CAMRA drinkers but all real ale loving fans!"
And, to make the most of the lighter summer evenings and the chance to sit outside in the beer garden, Towcester Mill Brewery has now extended its tap room opening hours for the summer. Now open:
Monday 5pm-10pm
Tuesday to Thursday 5pm-10.30pm
Friday 3pm-11pm
Saturday 12pm-11pm
Sunday 12pm-10pm
The pump clip for Maius shows a deer's head, representing the mediaeval deer park that is said to have been near Wood Burcote