Midsummer Music at the Mill!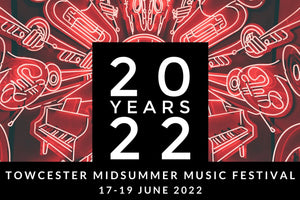 It's back! After two years of virtual Midsummer Music, we are so excited to be celebrating it in person again this year! 
It's the festival's 20th year anniversary and The Rotary and Lions clubs of Towcester are combining once again to put on another sparkling event which will be hosted by the Town Mayor. We are lucky enough to have three days of fantastic live music here at the Mill all across the weekend! 
6pm - local guitarist and singer, Craig Live, will be playing a variety of styles as well as playing covers of familiar and unfamiliar songs until around 9pm
9pm - local singer Antony Wolfson and his band The Artists take us through the evening until around 11pm
2pm - Nicholas Hawksmoor Primary School Y6 Choir
3.15pm - NN12 Community Choir will treat you to a mix of songs and get you clapping and tapping away
4pm - Open Mic session showcasing our local talented musicians - so if you want to take to the stage then get the date in your diary
6pm - Torus, featuring multi-instrumentalist Alfie Glass and Harry Quinn, will kick off the evening entertainment
7pm - the fabulous Towcester Studio Band will take centre stage and do a number of sets until around 9pm
9pm - live band Funktionality will get you in the groove with 60s/70s/80s hits and the most modern of funky pop songs!
Don't forget the Mill's garden is an ideal spot to watch the town's fireworks finale over the Watermeadows at around 10.30pm.
2pm - Towcester based folk duo, Jenkinson's Folly until around 4pm. Perfect for a Sunday afternoon chill out session!
5pm - Brendan & Folk, a four piece band playing an eclectic mix of Irish, Folk Country and popular song
There will also be food across the whole weekend - from Tribal Chilli on the Friday, Moo Hatch on the Saturday and Nonna Lucia's Pizzas on the Sunday.