Midsummer Music in the garden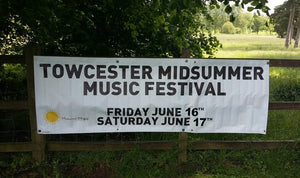 The 15th Midsummer Music weekend is nearly upon us and Towcester Mill Brewery is set to bring its beer garden to life with a beer tent, gin tent, soft drinks and ice cream, pop up street food and two stages for its numerous acts.
Starting on Friday 16 June, there are three acts throughout the evening. Kicking off the night at 5.30pm is Narius (a solo guitarist for all seasons), along with the Neggly Gents (an acoustic duo covering the 80s), finishing off with the Yellow Dog Rhythm and Blues band (acoustic blues band). Baja Cantina will also be at The Mill from 5.30pm with their freshly cooked Mexican food!
Saturday afternoon and evening has numerous acts for you to enjoy. The Quiet Ones start off the afternoon around 2pm, followed by The Del Ringers and then the Buckingham Ukele band. As the Towcester 917 walking carnival parade draws to a close, Aspire Arts singers and Towcester Majorettes will perform around 5pm, followed by Towcester Rock School from 5.30pm-7.30pm and the NHPS brass quintet, providing us with a feast of talent from our talented young musicians! The evening then continues with Towcester Studio Band at 7.45pm and concludes with a set from Duncan, covering the 60s, 70s and early 80s. And, if you fancy a bite to eat, then a BBQ will be available from around 1pm-6pm, topped off with a visit from Tandoori HQ and their fresh Indian cuisine from 5pm. Perfect to enjoy with a pint in the beer garden… and don't forget you'll get a perfect view of the grand firework finale from the mount at 10.30pm!
As the weekend draws to a close, Sunday offers a relaxing afternoon of music from Anagram (a ladies quartet), Syncopated Jazz (a traditional jazz quartet), Songbirds (ladies singing group), Terry Cattle (covering 70s and 80s) and concluding with Craig, a very well known local musician. A BBQ will also be available from about 1pm so you can sit and put your feet up and enjoy the afternoon's entertainment.
Come and have a fabulous weekend at Midsummer Music with Towcester Mill Brewery!