Mill Garden Vandalised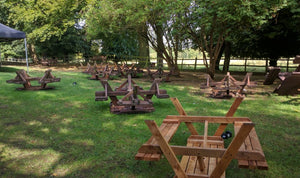 !! Please Note !!
Our garden was vandalised on Friday night (26th). Tables were turned over and some broken along with the garden lamps and one side of our gazebo.
Because of broken glass yet undiscovered please wear footwear in the garden at all times
Free beer for anyone with any information leading to the apprehension of the culprits!
Note the empty Fosters cans; here's a case in point why we do not have lager in our bar!
Thank you for your patience.