New beers at the bar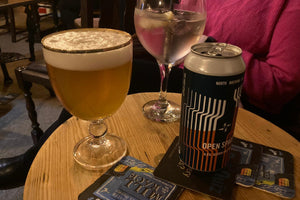 We've spent the first month of the year making plans to increase our bar offering and this month we're delighted to announce two new drink options to complement our eight real ale hand pumps.
The Guinness Microdraught
Are you a Guinness fan? If so you'll bound to enjoy having a pint of this at the Mill! This new cutting-edge technology serves beautiful, draught Guinness on tap, without requiring the gas cylinder used with traditional taps. Guinness Microdraught uses an air pump to push the liquid out of the can and through the standard Guinness Draught spout. The result is a beautiful two-part pour with the iconic surge and settle and a
cold, smooth taste. Perfect to enjoy for this rugby season as it's the official beer of the Guinness Six Nations! 
Belgian and craft beers
Hot on the heels of our new Guinness Microdraught is our new range of craft and Belgian bottled and canned beers, including:
🍺 Kasteelbier - Kasteel Xtra 4.5% vol
🍺 North Brewing Co - Open Space 4.5% vol
🍺 North Brewing Co - Sputnik 5.0% vol
🍺 DEYA Brewing Company - Steady Rolling Man 5.2% vol
🍺 Magic Rock Brewing - High Wire 5.5% vol
🍺 Tiny Rebel Brewing Co. - Clwb Tropica 5.5% vol
🍺 Anchor Brewing Company - Anchor Porter 5.6% vol
🍺 The Kernel Brewery - Export India Porter 6.1% vol
🍺 Leffe - Leffe Blond 6.6% vol
🍺 Beavertown Brewery - Lupuloid 6.7% vol
All of them are vegan friendly and North Brewing Co's Open Space is gluten free too.
Hope to see you enjoy a pint of your favourite something here at the Mill very soon!