New craft guest ales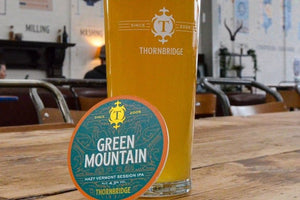 We are excited to announce that we now have two new craft guest ales and one new craft guest cider available in our Tap Room! 🍻
Alongside our traditional cask ale, we're very aware that craft chilled ale is growing in popularity and we are frequently asked for these craft beers. Thornbridge Brewery's brands have been well received in the bar when we've had them as guest ales previously so this new offer helps us to continue selling ale and keeping our draught offering lager-free! On tap now:
🍺 Thornbridge Green Mountain - light haze, soft body, bouquet of mango, pineapple and guava. Vegan friendly. 4.3% abv
🍺 Thornbridge Jaipur - grapefruit, lemon and tropical fruit with enticing bitterness, light and very drinkable. 5.9% abv
🍏 Rattlers Cornish Cloudy Cyder - young, light, tremendously fruity and refreshing cyder with a bite! Gluten free and vegan friendly. 6% abv
Why not pop in to our Tap Room and treat yourself to a pint in the sunshine?!