Now open Friday & Saturday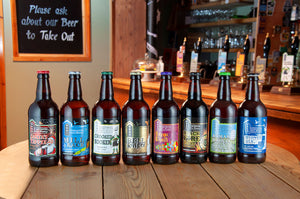 Now open Friday and Saturday this weekend! 
Due to demand we will be opening our Bottle Shop doors this Friday 27 November and Saturday 28 November 11am-3pm. Our Tap Room is still temporarily closed but you can now not only Click & Collect but you can also pop in to our Shop to see what other gifts you can pick up for the special people in your life!
All eight of our different bottled beers to fill gift packs, jute bags and mixed cases are all still available, as well as fresh, draught beer in 4-pint flagons, and 5L or 10L polypins - perfect for the weekend. But in addition to all of that, our shop also offers different gins, vodkas, sparkling wine, cream liqueurs, gin goblets, baseball caps, polo shirts and more! 
Bottled Beers - Crooked Hooker, Bell Ringer, Mill Race, Black Fire, Saxon Shield, Winter Ale and Santa's Tipple
Draught Beers - Mill Rae, Crooked Hooker, Black Fire and Bell Ringer
Cider - Lilley's Mango Cider, Lily the Pink, Thistly Cross Whisky Cask and Saxby's Mulled Cider
Spirits - last few bottles remaining or Oak Aged Tove Mill, plus our very own Watermeadow Gin, as well as Foxdenton mini packs, Christmas liqueurs and Blackberry & Apple Crumble
Clothing & Accessories - gift cards, baseball caps, polo shirts, hoodies, gin goblets and membership vouchers!
Make sure you get your Christmas Cheers with Towcester Mill Beers :)