Now open indoors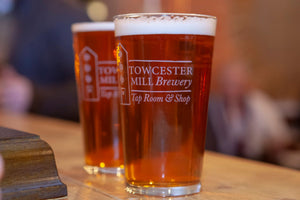 From this week we are delighted to announce that we will be opening up indoors once again - it's been a long six months without anyone in our lovely building!
So, from this Thursday 20 May, our Tap Room, Turbine Room and Steam Room will be open for you to come and sit indoors, come rain or shine. 
Our opening hours for the next few weeks until Sunday 20 June will be as follows:
Thursdays 3pm-10pm
Fridays 3pm-10pm
Saturdays 3pm-10pm
Sundays 12pm-7pm
We are not running a table booking system so all tables, whether they are inside or out, are available on a first come, first served basis. All visitors must scan in using the NHS Test & Trace app, or sign in manually, and wear masks if indoors whilst visiting the toilet or until seated. We do have a table ordering app; details of which can be found on all our tables! 
We have a total of around 40 outside tables as well as another 25 inside so we are hopeful there will be plenty of space. We look forward to seeing you all soon!