On the road to 'hoppiness'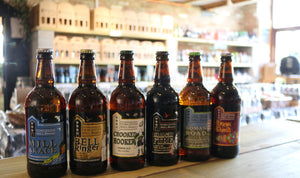 Fancy a bottle of beer? Or a case of 12?! Can't easily make it to the Brewery Shop at Bell Plantation Garden Centre to pick it up? Well there's definitely a 'hoppy' future ahead as Towcester Mill Brewery launches its brand new delivery service!
Available solely on a case of beer holding a selection of any 12 x 500ml bottles from the brewery's own range, the online shop at www.towcestermillbrewery.co.uk now gives customers the choice of collection or delivery at the checkout. The case of beer is delivered in special break-proof cartons to ensure that each bottle arrives safely at its destination for maximum enjoyment!
"Being able to offer this kind of delivery service is a first for us," explained director, Ray Hunt. "We've acted on feedback from customers who say that due to busy lives or not living nearby they can't always easily get to our shop. Now, with this new service, there is an option available to them. Whether it's a regular delivery to someone living locally or a one off to friends or family living miles away who might appreciate a beery gift, we can now bring the beer to them."
The case of 12 bottles can be made up to individual requirements taken from a selection of the Mill's core beers; Bell Ringer, Black Fire, Crooked Hooker, Mill Race, Roman Road and Saxon Shield.
Contact the shop on 01327 437560 or by email on shop@towcestermillbrewery.co.uk for more information or visit the website to order www.towcestermillbrewery.co.uk.