Rubio returns for the races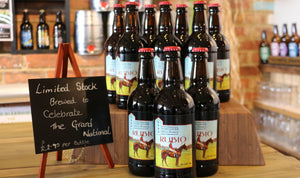 One hundred and ten years ago, in 1908, a horse called Rubio won the Grand National. But did you know that this horse had a link with Towcester? And that Towcester Mill Brewery brews a beer called Rubio at this time of year to celebrate this horse's link with the town?
"The tale of Rubio is an extraordinary one," explained Brewery director, John Evans. "It started in California where Rubio was bred and then bought by a Northamptonshire farmer in 1899. His first year of racing was a successful one until tragedy struck and he was removed from training. However, in order to get the horse sound again he was sent to the landlord of the Pomfret Arms Hotel in Towcester (now the Saracen's Head) to ferry guests between the station and the hotel. It did the trick as he was back in training by 1906 and won once at Towcester in 1907. He then went on to win the Grand National in 1908!"
Every year, when the Grand National is in full swing, Towcester Mill Brewery brews Rubio once again; a 4.4% vol chestnut brown ale, brewed specifically to celebrate the achievement of the chestnut brown horse.
And this year, for the first time, Rubio has been bottled and is now available in the Brewery's shop at Bell Plantation Garden Centre and will also be available on draught in the tap room.