Rugby at the Mill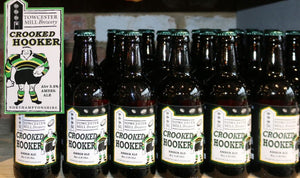 If you're a rugby fan then Towcester Mill Brewery is the place to go this season, as the Brewery is now showing rugby live on BT Sport.
All Rugby Union, Internationals and Aviva Premiership Rugby games live on BT Sport will be shown right through November, including the Premiership Northampton Saints game on Friday 24 November at 7pm, as well as the Six Nations in February 2018.
And, of course, the Mill will be serving its very own Crooked Hooker, a 3.8% traditional amber session ale brewed especially for and named after the Northampton Saints Rugby former players club 'The Crooked Hooker'. All matches will be shown in either the Turbine or Malt Room depending on the game, so why not treat yourself to a pint and enjoy?!
If that's not enough, then don't forget to buy a ticket for an exclusive evening with Northampton Saints player, Christian Day, on Saturday 11 November, hosted at the brewery. Christian has played more than 200 times for Northampton in his 10 year career at Franklin Gardens and has been awarded a testimonial in recognition of his remarkable contribution to the club.
Over 50 tickets have now been sold but there are a few more left – do not miss this opportunity to join him straight after his match v the Dragons and help raise money for his two chosen charities for his Testimonial Year, The Leon Barwell Foundation and Niamh's Next Step Neuroblastoma Cancer Charity. Tickets cost just £10, all of which (excl booking fee) goes to his charities and enters you into a draw for one of his game shirts signed by the whole Saints squad. A great evening for any rugby fan!
To book tickets please visit www.towcestermillbrewery.co.uk.