Towcester Mill Brewery is holding a Beer Festival!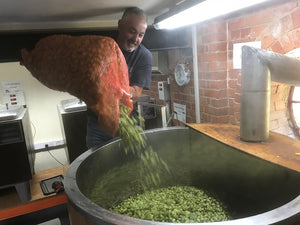 Running from 5pm-10.30pm on Friday 21 September and from 2pm-10.30pm on Saturday 22 September, the festival will include a selection of German brewed beers, as well as Towcester Mill's very own, as well as music and food.
"September is a key time in the brewing calendar as British hops are harvested at this time of year," explained head brewer, John Evans. "This means we can brew with fresh hops to create our perfectly balanced session pale golden ale, made with luscious and fragrant Herefordshire grown hops. It's only brewed once a year so when it's gone, it's gone. It's a great opportunity for us to celebrate this time of year with a special beer festival - one which is not to be missed!"
Towcester Town Mayor, Cllr Peter Conquest and Mayoress, Mrs Jonna Conquest, will be tapping the first cask at 5pm on the Friday to get the beer flowing. There will be some background music to get everyone in the spirit and street food will also be available...
John added, "A selection of German themed food will be on offer from the brilliant Bodybuilders Kitchen on Friday evening from around 5pm-9pm, with a choice of German sausages, hot dogs and sauerkraut, amongst other delicious dishes. There will be wood-fired pizzas from The Little Oven of Joy on Saturday lunchtime and into the afternoon from 12pm-5pm, followed by a BBQ from around 6pm-9pm to finish off the evening. It's free entry for all to come along, all you have to do is pay for your drinks and your food!"
For the latest and most up-to-date information on the Beer Festival, please visit Towcester Mill Brewery on Facebook. Cheers!
While the roadworks are in place, vehicle access to the Mill's car park is via Northampton Road and Moat Lane, which has a two-way operation in place. Pedestrian access is still possible along Chantry Lane.