Towcester Mill's Crayfish Festival Is Back!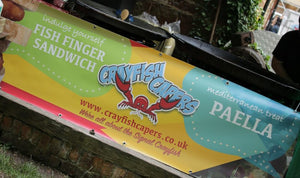 Due to its success in previous years, Towcester Mill Brewery is delighted to be joining forces once again with Crayfish Capers to run its annual Crayfish Festival on Saturday 21 July from 12pm.
Crayfish Capers, a family run business in Milton Keynes, specialise in the trapping and supplying of signal crayfish and will be cooking up the biggest paella dishes ever seen for all to enjoy, as well as fish cakes, chips and fish finger sandwiches for the little ones…
Mark Lees, who runs Crayfish Capers, said, "We can't wait for the festival at Towcester Mill this year, it's always a really popular event and it's great to be back once again! I've been trapping signal crayfish for the last 10 years and our business came about as a result of the invasion of signal crayfish in UK rivers and canals. By trapping them in this way we can help slow down the devastating effects they are having on our waters."
Why not come along, talk to Mark and help catch the signal crayfish from the Mill leat? It's a great afternoon for all the family! And, if you like what you eat, you can find Crayfish Capers at Towcester's farmers market each month.
Entry to the Crayfish Festival is free, just come along and enjoy the location, the food and of course our award winning real ale and wide range of speciality gins!