Towcester Mill welcomes TV comedians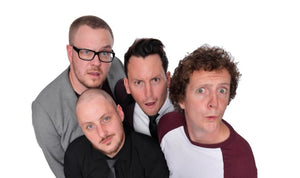 TV comedians The Noise Next Door are putting Towcester on the map as their 2017 Tour comes to Towcester Mill Brewery on Thursday 30 November.
The Noise Next Door have appeared on BBC 1, BBC 3, ITV1, BBC Radio 1 and BBC Radio 4 and have appeared alongside the likes of Michael McIntryre, Al Murray and Harry Hill. They are one of the most sought after comedy club headliners and an act not to be missed!! They will be performing perfectly choreographed routines and fascinating the audience with their wonderful blend of ludicrous characters, witty one-liners, epic stories and musical mayhem, resulting in a hilariously exceptional show.
Support comes from the cheeky and charming 'Aussie' Damian Clark, whose hysterically dreamlike material is both smart and unique. He has appeared as a comedy panelist in Irish TV3's The Apprentice You're Fired and likes to spend time creating his own comic about his life.
Completing the line-up is Jack Barry, with his witty musings and spontaneous dialogue. Compere for the night will be Towcester Mill's resident MC, Pete Teckman, who has been crowned Silver Stand Up of the Year 2017 at Leicester Comedy festival, an award for comedians over 40 years of age, with his mix of observational humour.
All tickets are priced at £15 (incl booking fee) and can be bought via www.towcestermillbrewery.co.uk. Doors to the upstairs bar open at 7pm, show starts at 8pm.
Towcester Mill Brewery has joined forces with Funhouse Comedy to bring some of the UK's top comedians, as well as the circuit's finest rising stars, to Towcester. The next comedy night will be held on Thursday 28 December, headlining the hilarious Jarred Christmas, and then Thursday 25 January 2018 featuring Mock The Week's Gary Delaney!