Town Pub of the Season!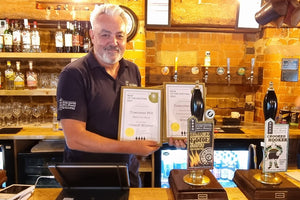 We've done it again! 
CAMRA Northamptonshire came along to the Tap Room over the weekend to award us 'Spring Town Pub of the Season' as voted for by CAMRA members!
CAMRA members were asked to consider beer quality, the service and welcome, community focus, cleanliness and other factors which encouraged them to make a repeat visit. It's only recently that CAMRA (Campaign for Real Ale) re-introduced the Town Pub of the Season awards so we are absolutely delighted to have won this award for the spring season. A huge thank you to all of you who may have voted for us and to our fabulous team for going above and beyond and making the Mill the fantastic place it is today! 
Richard Burgham from CAMRA also presented John with the award for Black Fire winning the Champion Beer at the Northampton County Beer Festival at Becket's Park a few weeks ago. You can't get much better than a double whammy when it comes to awards - thrilled doesn't quite cover it! Cheers everyone!