Watch the Six Nations at the Mill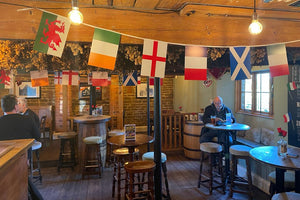 It's Six Nations time! It's been a while since the Tap Room was open in February/March for the Six Nations due to the pandemic so we're really looking forward to welcoming rugby fans to watch the games here at the Mill!
England, France, Ireland, Italy, Scotland and Wales will battle it out for the Six Nations crown, with the first game being played on Saturday 5 February. 
This means it's the perfect time to enjoy Crooked Hooker - our 3.8% extremely popular beer which has been brewed especially for, and named after, the Northampton Saints Rugby former players club 'The Crooked Hooker'. It is a traditional Amber session ale brewed to leave a satisfying hop finish and perfect to enjoy whilst watching a rugby game!
We have a couple of promos on too: 
Four pint pitchers of Crooked Hooker for £12.50 - available in the Tap Room on the day of the England games only, perfect for sharing!
10% off our Mixed Six cases which include 12 x 500ml bottles of our Towcester Mill beer, available online or in our shop for the duration of the Six Nations, 5 February-19 March.
All games will be shown in our Steam Room on the first floor. Tables available on a first come, first served basis!