Watling Street arrives at Towcester Mill!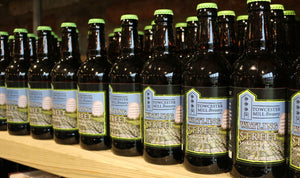 Towcester Mill Brewery has released its new beer this month named after the very road that runs right through the town.
Watling Street has been brewed to celebrate the recent opening of the Brewery's new shop on the Roman built Watling Street, just under a mile from the brewery which is located just off Watling Street in the heart of Towcester.
"Watling Street is an American style IPA," explains Brewery director, John Evans. "It's a first for us here at Towcester Mill Brewery – customers have been telling us they've fancied an American style ale and here it is!"
He added, "We have brewed an IPA in the past but it's a first for us to put our own stamp on an American style IPA plus it's also now available in a 500ml bottle. The beer is named after something which really does run right through the heart of Towcester, as well as linking it to our new shop a bit further up the road. What better than to name it after Watling Street itself?"
The use of very pale malts in the brewing of Watling Street delivers its blond appearance. By adding American hops, the ale gains its full bitterness along with good grapefruit aromas.
Watling Street joins Bell Ringer, Mill Race and Black Fire as one of Towcester Mill Brewery's core beers and is available on draught in the tap room at the Brewery and bottled in its new shop at Bell Plantation Garden Centre.
For more information on Towcester Mill Brewery, to check out their up and coming music nights, book a brewery tour, become a member or hire a room, log on to www.towcestermillbrewery.co.uk or visit their Facebook page.