Weekend of food, beer and rugby at Towcester Mill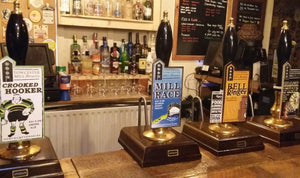 Come on down to Towcester Mill Brewery this Friday and Saturday and enjoy the rugby with a pint and a bite to eat!
Tonight we have Tandoori HQ selling their curries and rice dishes from 6pm, perfect to go with a pint before the Wales v Ireland game kicks off at 8pm.
Tomorrow we are celebrating British Pie Week. Pork pies, pork pies with black pudding, vegetable pies and scotch eggs will all be on offer from 12pm on Saturday until they sell out! Made by Incredible Edibles, a Northamptonshire based catering company, the pies come very highly recommended.
And, if you fancy watching the England v Scotland Six Nations Rugby game on Saturday afternoon, then the Brewery is still offering four pint pitchers of Crooked Hooker for £10, available in the Turbine room for England games only.
So, come and be part of the action at Towcester Mill Brewery this weekend – grab yourself something to eat, a perfect pint of real ale, put your feet up and watch a game or two!