What a night!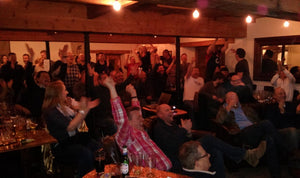 A packed room with a great atmosphere would be the best way to describe our first game of the Six Nations at Towcester Mill.
For all English fans it was a triumphant night all washed down with Towcester Mill beer in pints and 4 pint pitchers!
We also had our inaugural BBQ which managed to feed 40 plus people so that went down a storm!
Don't forget that we're showing the Italy v Ireland game at 14.30 and the France v Scotland game at 17.00. See here for all fixtures.
We'll also be lighting the BBQ again today and this evening so whether you're a rugby fan or not why not enjoy a pint of our beer with a bacon cheeseburger!