What's on - December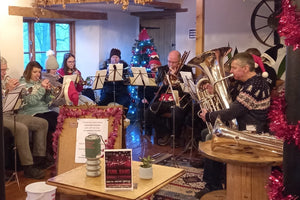 Wow - it's December already! This has to be our busiest month of the year and it is crammed full of fantastic festive delights, with live music, tribute nights, live comedy, carols, quizzes and even a magic night!
Check out below what we've got in store as there's bound to be something for everyone - and after a couple of years of disrupted Christmases we are so looking forward to it!
Thursday 1 Dec - OPEN MIC WITH LEWIS
Saturday 3 Dec - TRIBUTE NIGHT TO ROBBIE WILLIAMS
Tuesday 6 Dec - QUIZ NIGHT WITH ROSS
Saturday 10 Dec - TRIBUTE NIGHT TO ADELE
Sunday 11 Dec - FOLK AT THE MILL
Friday 16 Dec - CRAIG LIVE
Saturday 17 Dec - MAGIC AT THE MILL
Sunday 18 Dec - CAROLS AT THE MILL
Tuesday 20 Dec - CHARITY CHRISTMAS QUIZ
Thursday 29 Dec - LIVE COMEDY NIGHT WITH ANDREW BIRD & SCOTT BENNETT
PLUS we have food on the first Tuesday of the month with the Wood Oven, every Thursday with The Flavour Trailer, every Friday with Nonna Lucia's Pizzas or Santina's Woodfired Pizza Co and more - check out our Street Food page!
Hope to see you here soon!