Winner! At the Northamptonshire Food & Drink Awards 2017/18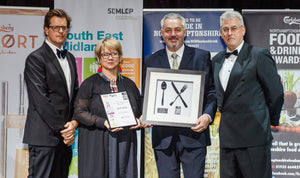 We're delighted to announce the results from the Carlsberg UK Northamptonshire Food & Drink Awards where, for the first time, Towcester Mill Brewery won one award, came runner-up in a second and was recognised as a finalist in a third.
Held on Wednesday 15 November at the Royal & Derngate in Northampton, the ninth awards ceremony celebrated the best of the best in the food and drinks industry within the county – and we brought home the award for the One to Watch! This was a new category aimed at food and drink manufacturers whose businesses are less than five years old, and is designed to recognise their potential for major growth and future significant impact on the market, thereby raising the profile of Northamptonshire at a regional or national level.
We were also delighted to be awarded the runner up for the category Artisan Local Drink of the Year for one of our core beers, Bell Ringer, a 4.4% golden ale with a blend of malts that gives it subtle malt tones, which are combined with hops delivering orange and citrus notes.
And, our new beer, Saxon Shield, was granted finalist status for the category New Local Drink of the Year. This ale was our way of marking the 1,100th anniversary of the Saxons defeat of the Danes of Northampton at the first Battle of Towcester in 917AD. This is a beautifully balanced, 4.7% dark copper ale, brewed with English malt and whole leaf hops, delivering full flavour and hoppy aromas.
"It really was a great result," said director, John Evans, who attended the awards ceremony. "We've had an amazing first few years as a micro-brewery here at The Mill and we certainly hope to keep going from strength to strength. Here's to next year!"